OBWA meets every second Wednesday of the Month (September thru June) at the Best Western Mariposa INN and Conference Centre at 400 Memorial Ave. Orillia for Networking, Fun, Food and to hear a wonderful Guest Speaker.
We want to sincerely thank all our OBWA Members and guests this past season who have made our networking dinner meetings a great success!  For our last meeting of the season we wanted to do something a little different so our June Networking Dinner Meeting; weather permitting, will be dinner on the patio, garden party style we hope you will join us and we look forward to seeing you all there.
We are also pleased to announce that June's guest speaker is our very own Laurie Neill, OBWA Member and Owner of The White Lion' Tea House here in Orillia.
Experience the Charms of Tea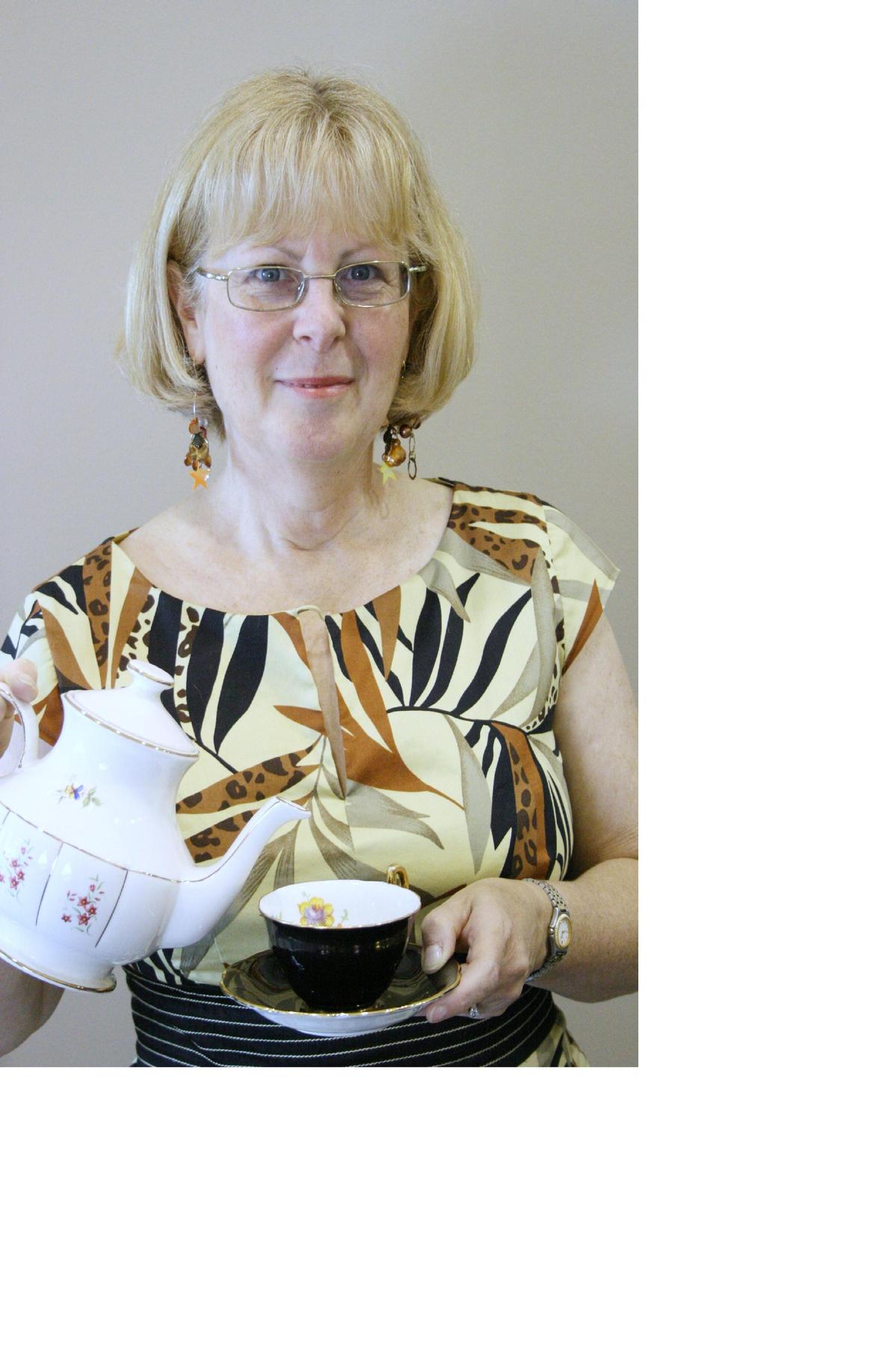 Laurie Neill is a Certified Tea Specialist and working towards her Tea Sommelier designation along with studying tea blending.  She opened the White Lions Tea House in September 2011 after finding herself once again out of work and wanting to do something she loved.  This had been a dream for about 10 years while collecting cups and saucers, tea pots, visiting tea rooms with friends, doing fund-raisers and learning about tea.  "I love everything about tea, the aromas, the colours, the tastes and the health benefits. I guess I am a real tea granny!" The selection of teas in her shop has grown constantly as Laurie explores different options from many countries.  "I grew up thinking all tea came from Ceylon or China and was in a bag.  Learning about the terroir of different growing regions and the profile it creates all from the same bush is amazing."  She now offers single estate teas from 6 countries all with unique flavours coming solely from the leaves.  As well, Laurie has recently started blending teas and flavours to create proprietary blends for her shop as well as local organizations.  "This is the fun stuff, trying to figure out what goes together and how to get a flavour to stand out."
We will be exploring several teas as well as other uses for tea such as cooking, health and cocktails as we "Experience the Charms of Tea".
www.whitlelionsteahuose.ca
https://www.facebook.com/whitelionsteahouse/
Leafy Greens and Sprouts with Sweet Tomatoes, Shredded Carrots, Cucumbers, Basil and Roasted Shallot Vinaigrette
Our House Caesar Salad – Bacon on the side
Creamy Potato Salad
Heirloom Tomato and Baby Mozzarella Skewers with Clipped Chives and Herbal Drizzle
Fresh Crisp Vegetables and Buttermilk Ranch Dip
Sweet Corn on the Cob
Grilled Veggie Skewers
Baked Potatoes
BBQ Breast of Chicken
BBQ Sirloin Steak
Dessert:
Assorted Freshly Baked Cookies, Squares, Tarts and Sliced Fruit
The OBWA meeting is held at the Best Western Mariposa Inn & Conference Centre located at: 400 Memorial Ave. Orillia, Ontario.
Wednesday, June 14, 2017
Networking: 5:30 – 6:15 pm – 
Introductions: 6:15 pm
Dinner: 6:30 pm – Speaker: 7:30 – 8:30 approx.
You must RSVP before Friday, June 9th by 3pm, please email us at reserve@orilliabusinesswomen.com
If you have any allergies or dietary preferences please let us know in your email at the time you RSVP.
IMPORTANT: Should you need to cancel your attendance for the OBWA dinner meeting, please do so by Monday, June 12, 2017 – 3pm. After this date, NO CANCELLATIONS will be accepted and you will be responsible for the cost of your missed dinner, we thank you for understanding.

If you indicate on our Facebook Event that you are going please note, that does not count as a reservation, you must email your reservation request.
You may purchase Dinner Meeting Tickets or Membership online CLICK HERE   
The OBWA Executive would once again like to thank the OBWA Gala Committee and our Sponsors who made The Woman of the Year and the Young Woman of the Year Gala such a great success, we could not have done it without you and the support of our OBWA Members and Community.
Congratulations to the Recipients!!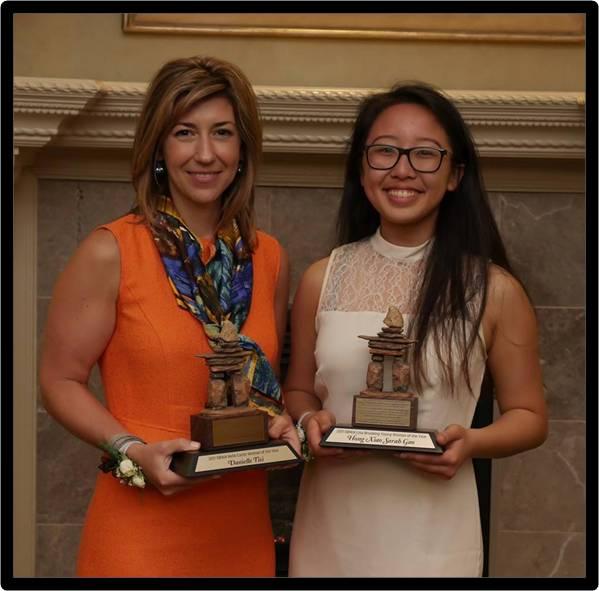 The Orillia Business Women's Association would like to Congratulate the 2017 Nelle Carter Woman of the Year Award recipient, Danielle Tisi, Principle Broker at McLean & Dickey Ltd. (Right) & Congratulations to the recipient of the 2017 Lisa Brooking Young Woman of the Year, Hong Xiao (Sarah) Gao of Twin Lakes Secondary School!
The OBWA Executive would like to welcome our newest Members:
Diane Beaumont – Owner/Operator Acti-Labs Canada
We look forward to getting to you know you better!
The Featured Business Woman of the Month.
OBWA Members do not forget to bring your business cards to the meetings. OBWA members will once again have the opportunity to be chosen as the Feature Business of the Month. If your business card is chosen, it will be featured on the OBWA website, and you will have the opportunity to showcase your business at the following month's networking dinner with a trade table. Good Luck to you all!
OBWA Executive Positions
The Orillia Business Women's Association Executive Team has 2 positions available starting August 2017
The positions include:
Secretary
Social Media/Website
Should you be interested in applying for these positions please contact Shelle Hossack – OBWA President or
another OBWA Executive Member.
We want to thank Lynn Martin and Corry Ticknor for their time and volunteer service contributing to the OBWA Executive.